It's Arrived..!!
InTheRooms.com Technical Support Center.
ITR is continually trying to improve the 'End-User Experience' of it's members and hopes that this new center will deliver a 'One Stop Shop' for self-help in fixing any Technical Issues that members might encounter when using the various InTheRooms.com sites and their associated iPhone and Android 'Companion Apps.'
For example;  Joe Bloggs experiences some difficulties  during a Video Meeting and wonders, if perhaps, this is a common problem that can be  fixed. Joe comes to the new Support Center, a part of InTheRooms.com, and searches the Knowledge-base for similar issues and possible fixes. If, after viewing a couple of Video Tutorials, he still cannot solve the problem, Joe can open a Support Ticket that can be found in the SAME PLACE  he has been searching for answers.  Joe creates a New Ticket, describing the problem and is contacted  by one of the InTheRooms.com Technical Staff, who will ask a series of questions and may ask for SECURE access to his PC. When Joe gives permission, the technician will analyze the problem and a short while later, his issue is resolved. ALL FROM ONE PLACE.
The Technical Support staff will now create a new FAQ.  One with Joe's exact issue and a description of the steps that were taken to resolve the matter. Not only has ITR fulfilled it's desire to provide better access to technical support, in reaching out with his problem, Joe has contributed greatly to the ITR Online community as well, by adding another easily accessed solution to the Knowledge-base. Therefore helping others as well and giving true meaning to the statement that:
RECOVERY IS A TWO-WAY STREET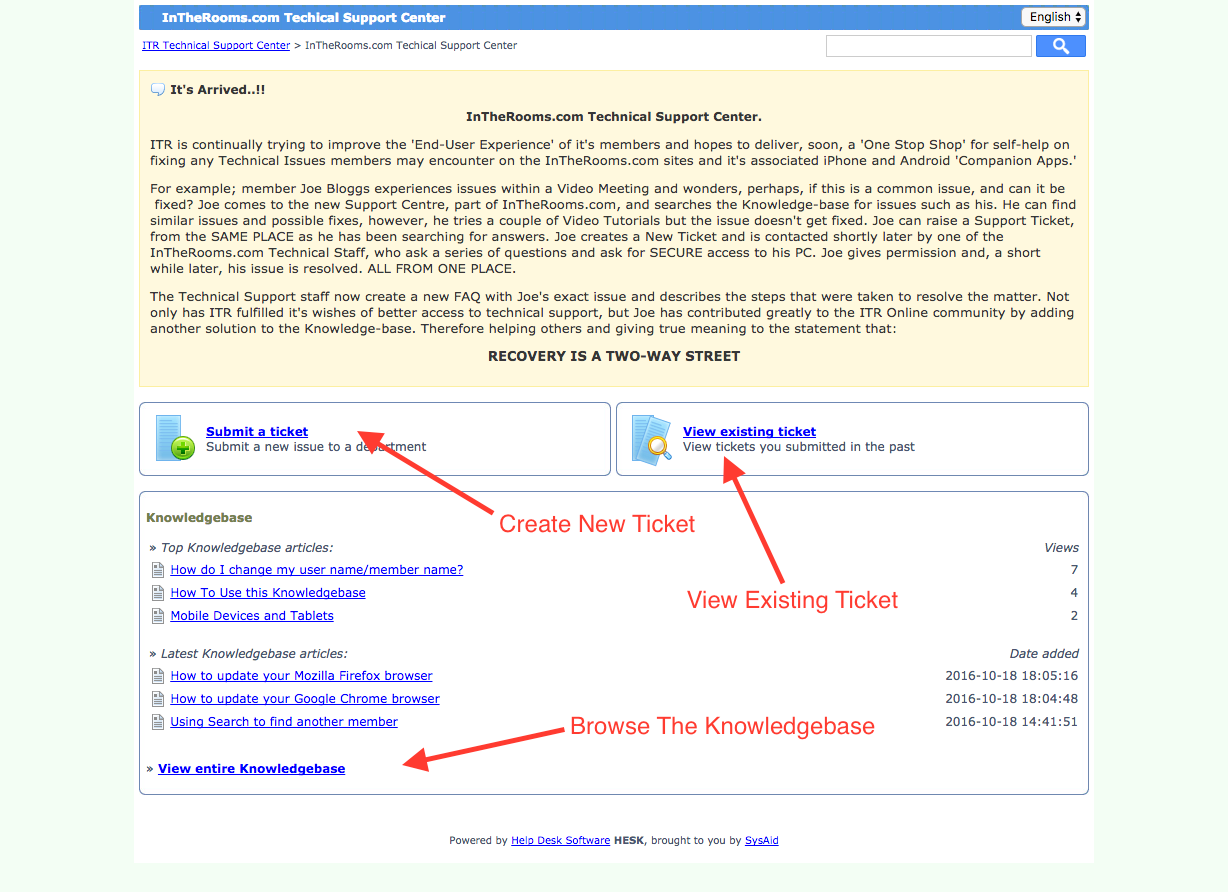 The ITR Apps (iOS AND Android
If you are experiencing problems with the IntheRooms App (button logo is a blue tree on a white background), the Apps are going through an update to try and fix unknown bugs.
Please bare with us and please keep trying.
In the meantime, it is pointed out that https://IntheRooms.com is available using a PC or Laptop; and compatible web browser, it will always be more stable and functioning than the mobile apps, which were built as 'companions' to this main site.
Compatible Browsers are the latest version of both;
Google Chrome (ver 67.x at time of writing)
Mozilla Firefox
ITR Tech Support Team